St Mark's Church welcomes children!
Sundays
On the 3rd, 4th and 5th Sundays, these groups meet during the 9.30am service:
Creche – aged 0-3
Scramblers – aged 3-5
Climbers – aged 6-8
Explorers – aged 9-11
Pathfinders – aged 11-13
Kid's Praise
On the first Sunday of the month for children aged 3-11. Join together in the Lounge.
Weekdays
Pre-school children
Noah's Ark Praise & Play Thursdays 9:15am-10.45am. Term time only. For more information, please contact Ros Davies.
Toddler Club Fridays 9:15am -10:45am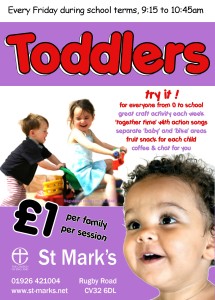 Toddler Club is open to all children from birth until they can start school, together with their parents and carers. Friday mornings in term time. For more information, please contact Ros Davies.
Sundays – more information
Creche
A safe and comfortable space with lots of toys. Access via the door with the curtain, at far left front of the Church.
You can go with your baby to play and listen to the service through the sound system, or you can leave your child to be cared for while you enjoy the service without distractions.
You can come and go at any point in the service (aged 0-3).
A gentle but exciting mix of games, Bible stories and action songs to help the children know that God loves them (aged 3-5).
Leader: Rozi Smyj-James
Climbers
Lots of fun activities including games and craft, exciting Bible stories, action songs and dancing, enabling the children to experience God's love for them in different ways (aged 6-8).
Leader: Ros Davies
Explorers
A time for children to grow in their understanding of God's love for them and for the world. Lots of fun activities and Bible teaching, with a chance to reflect, ask questions and pray for one another (aged 9-11).
Leader: April Harris
Our Vision for Children @ St Mark's
For the children
To meet Jesus and know they are unconditionally loved by Him
To learn Truth from the Bible and understand that it is the exciting and living Word of God
To learn to talk and listen to God through creative and different ways of praying.
To experience the dynamic work of the Holy Spirit in their lives
To learn how to worship in a way that is fun, exciting and appropriate to their age, stage and personality
To come to a personal faith in Jesus as Lord and Saviour
To know that the Church is the family of God where everyone has a special part to play
To be enthusiastic about sharing Jesus with their friends.
For children's work at St Mark's
To make our church a place which children feel belongs to them, and where they are always welcome and valued
To continue to build a strong team of children's leaders who are called and committed to creative and lively children's ministry
To work together with parents and carers to encourage strong Christian families where children learn to enjoy living for Jesus
To reach children who do not yet know Jesus
To be faithful to God and His word revealed in the Bible in all our teaching.